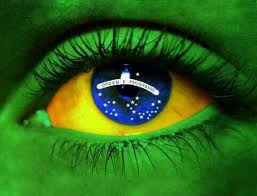 Congrats. Blues!
Well, I admit I really thought I'll be the only french guys going to Brazil next summer… I feel stressless.
Who's gonna get its tickets?? Let me know if you do!
By the way, here are the last news from Mongolia :
– My Chinese VISA is in progress, it took me 20 minutes at the Chinese embassy, and cost me 22€.
– I'm organizing a 3-4 days trip to the steppes with other backpackers.
– I've found few signs of sustainable development and social entrepreneurial activity in Mongolia. A firm which selling American bio products, even if we still can wonder if imported bio is really sustainable or not… and tones of Toyota Prius! I wonder if this car isn't actually the most popular one in Mongolia, and I still dunno why. However it is really interesting to see no problem with electric batteries here, whereas in France batteries are loosing power while temperature drops below 0˚C. The only fair trade shop in Mongolia, a french-mongolian social local business which is making cheese while keeping traditional methods of production. And last but not least, a Mongolian lombricompost sold in a shopping center!!! to explore more!
Bruno 
SenseFood Explorer