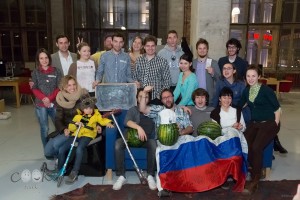 Sense Drink Moscow ! 
Wouaaaaah ! Thank you, Thank you, Thank you so much !
It was such a an extraordinary  time ! We  were  30 of us  yesterday  evening  in  the  Daily
Telegraph kitchen, at 5 minutes from the Red Place.
We  cooked  together  different  products,  and  I cooked  with  my  Russian  friends  a  good  French ratatouille. I added my little personal touch: honey.
I  met  a  lot  of  people  working  for  sustainable  development  in  Russia:  Slow  Food  Moscow,  a cooperative of  fare trade coffee, local producers, a start-up which makes chocolate in a traditional way, an association of sustainable development education… and also the great Yulia Razumova from Cook & Talk who helped me to organize this event and hosted me! Congratulations Russia, keep it up and I am sure that I will come back soon to see you!
But not before 375 days!
Spasibo!
Bruno
SenseFood Explorer !