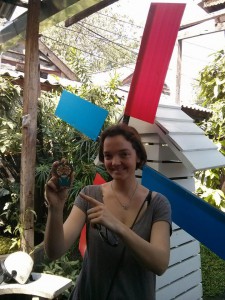 Hi everybody,
I would like to introduce you to Camille Gaudin, my new Sherpa Buddy Thaïlande, and Tito, her Totem.
I met Camille thanks to Bertrand of Wimha.
Camille arrived in Thaïlande 5 days ago to start a trip in South-East Asia. She wants to find and meet producer and social entrepreneur with sustainable approach ; especially the one who works in textile sector.
Here is her website project : EcoSourcingProject
Today, we are in Chiang Mai in the north of Thaïlande and, in a few hours, we are leaving for the Pure Farm of Tristan Lecomte !
Welcome on the Sense Road Camille !
Bruno 
SenseFood Explorer